PARTIAL CLIENT LIST
IBM
CNN
PTL
Int'l Seminary
Life Time Cable
HBO
Christian Prison Min
Marriott
Campus Crusade Nissan
Applebee's
ComAir
Lafarge
UpJohn
C-SPAN
Bell South
Warren Buffet
Seven Eleven
Poly Portables
Ferrari
Evander Holyfield
Atlanta Apparel Mart
Stone Mountain Park
Super Bowl 96
Chevron
TBN
Charisma
Movie Guide
House of Hope
Bill Glass
New Tribes Mission
Int'l Prison Ministry
CBN
Horse Whisperer
Easter Seals
Christian Sportsmen
Jack Murphy
Israel Affairs Int'l
Emory University
Stirling/Sotheby's
Hank Aaron

Here are a few important basics required to create an impactful video. When you begin defining your presentation define steps 1 and 2 below. They will provide a great start at crafting a powerful script and consequently a powerful film.
Domenic Fusco
Start by defining your...

1. AIM, AUDIENCE APPROACH AND ACTION
If there was one area in creating a powerful video that is neglected, it would taking the time in defining these four elements thoroughly. Once defined the creative process begins by determining how you accomplish your AIM, by knowing how to APPROACH your AUDIENCE and lead them to a well thought out ACTION. This Ministry Guide for Producing Powerful Video covers the necessary basics for a solid foundation upon which you build your highly effective presentation.
2. EVERY SCRIPT HAS THREE KEY ELEMENTS
Whether you are a Mad Man (Madison Avenue Account Executive), preacher, teacher, speaker, movie maker, etc. the flow of your presentation must include Three Key Elements: PROBLEM, SOLUTION, and finally an APPEAL. Think about it. Discover the keys for creatively incorporating these elements in your next video, speech or campaign!
3. START WITH A LIFE CHANGING SCRIPT
Bad scripts almost always produce bad films. You win before you begin in this business. In the world of video and film the challenge becomes multiplied since you are using a number of mediums to accomplish the task: content, visual and audio which provoke an emotional response. Learning the basics for developing a highly effective script is a must. Even great movie stars bomb now and then. Why? A bad script.

As a film critic, it is my job to make judgments on the quality of production and the breadth of creativity and substance in a film. If I were to give a rating, it would be four stars.


Dr. Ted Baehr Film Critic and Author
---
For the Perfect Presentation
There are Questions to Answer!
The Ministry Guide provides questionnaires that will deliver the winning details for successfully moving your audience
toward your aim.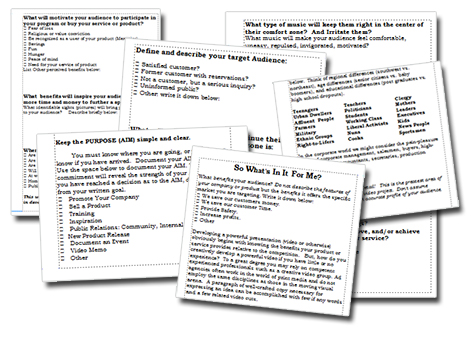 Answer the questions and you are on your way!